ABOUT IRENA STERKIN (IRKI)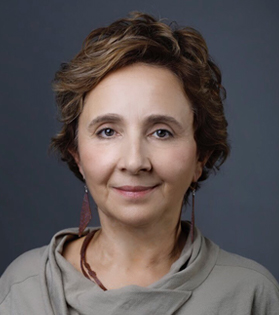 Irena Sterkin was born in 1958 in Moscow, Russia. Studied Applied Mathematics and Computers. Since 1990 lives in Israel. After successful career as a software engineer and Information System Manager at a number of Israeli companies decided to pursue her real passion: the fashion design.
Irena's fashion designer credo is organized around three basic principles: simplicity, harmony and elegance. In her designs Irena is inclined towards special colors but prefers to keep geometric forms as basic as possible. Forms are intended to highlight uniqueness of selected colors and to play with them in a perfect harmony. The final product is supposed to be elegant yet practical, equally suitable for office and party.
All IRKI products are produced from a unique fabric made of Miyuki Beads - high quality glass beads of various geometric forms and sophisticated colors. Out of such fabric multiple types of fashion accessories: bracelets, earrings, and necklaces, are produced complemented with specially tailored silversmith work of clasps and logo.
Today IRKI Product Catalog includes close to 60 different items and is still growing. Providing a rich variety of products without slipping into commoditized permutations completely is a kind of challenge Irena is eager to take on. When form and colors finally bend to the designer will it is always rewarding and worth the effort.
IRKI products are mainly sold through boutique and museum accessory shop chains around the world, with whom we maintains very close partner relationships:
Musée des Arts Décoratifs
107, rue de Rivoli, Paris, France
Flo by Ella Braitman
Yehuda Margoza, 16, Yaffo, Israel
Materie
Via Del Gesu 73, Rome, Italy
Pandora della Malva di Donatella Torzo
Piazza San Giovanni della Malva 3, Rome, Italy
Karolina Boutique
Ramat Gan, Israel
Boutique Miss Ily
6 Rue Amiral Revelerre, Roscoff, France
Eclats Dame
84 Rue Monge, Paris, France
Musée d'Art Moderne
3, Park Dräi Eechelen, Luxembourg-Kirchberg